A la carte augmented reality in France
Innovation plays a key role within the other LACROIX sites in Tunisia and Germany, and is of course at the heart of the French factory in Saint-Pierre-Montlimart, where augmented reality technology has been developed to assist operators during the cross-cutting component assembly stages.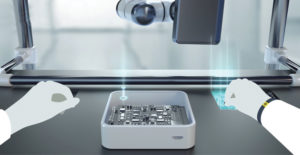 For this project, the electronics sub-contractor has formed a partnership with a start-up based in the south of France, Robocortex. No need for a virtual reality headset: a simple projector displays certain items of information directly on the work station, such as instructions for the current stage of production or precise areas on the printed circuit board.