The Electronics activity of LACROIX has been working for over 20 years alongside world leaders in the automotive industry in various fields such as sensors, pollution control, lighting, and even audio systems. Our teams which are dedicated to the automotive industry provide comprehensive service from the design to the serial production of vehicle-embedded electronics.
An offer that's completely adapted to your needs  
Working in collaboration with our customers, our technical experts develop reliable products that are on the cutting-edge of technology in the automotive industry. Our integrated design center meets the technical, economic, aesthetic, and environmental requirements that our customers wish to include in their product design.
We also lend our support to customers who prefer to remain in control of their design thanks to our ability to customize advanced industrialization of electronic features. We optimize their development (PCB routing & DfX) to meet quality and cost objectives as well as time-to-market periods. Our prototyping service also allows you to quickly validate your chosen technical options.
As we are experts in the production of connected circuit boards that are embedded in vehicles, we also have highly-automatized production processes. We are on the cutting-edge of technology thanks to our Smart Industry plan and guarantee complete traceability of your products. Finally, our test strategy engineers are developing customized solutions to achieve a level of "zero defects" in order to meet specific standards established by the automotive industry.
The Electronics activity of LACROIX is a partner in innovation for connected, autonomous, hybrid, or electric vehicles
Our breadth of skills allows us to propose solutions adapted to various applications in keeping with the requirements of the automotive market. This means we are able to meet your expectations:
from features embedded in the vehicle's interior to connected vehicles
from electronic transmission and motorization features to electric vehicles
from standard vehicle security solutions such as LED lights to driver assistance solutions and the autonomous vehicle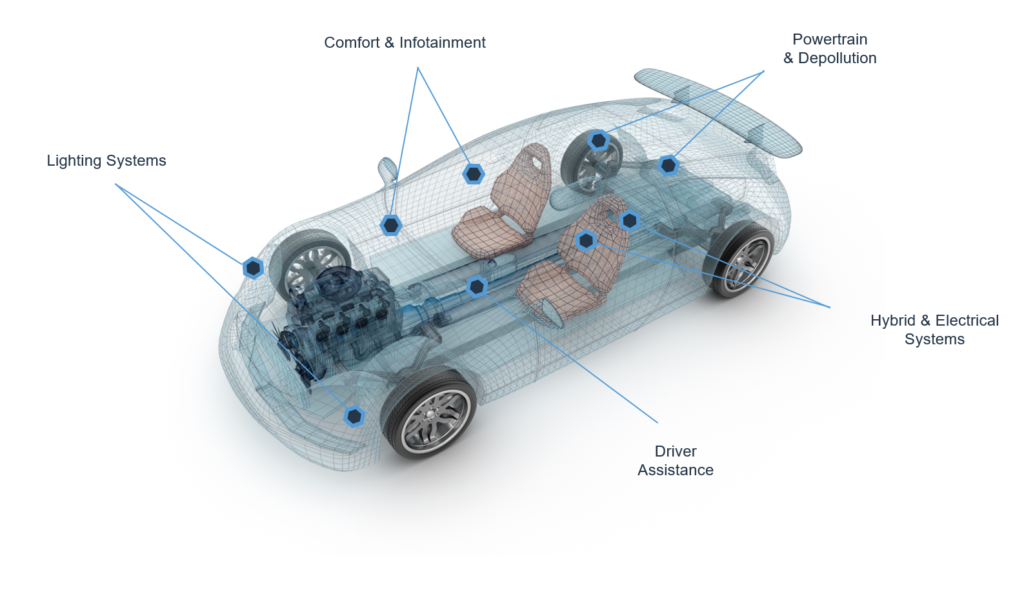 Our experts, dedicated to the reliability and competitiveness of your products
We can offer support for smaller to very large series thanks to our complementary factories in Poland, Tunisia, Mexico, and the United States. As reliability is one of our priorities, all our sites have a demanding and powerful end-to-end project management process at their disposal.
The strength of our purchasing team allows us to propose solutions adapted to the fluctuating availability of the component market. Because of our control over our Supply-Chain (MRP2 and EDI flow management), we are also able to optimize your total cost of acquisition.
Our support services offer tailored solutions throughout your product's life cycle, for improved flexibility and responsiveness while ensuring our services remain reliable and competitive.
Our certifications