For more than 20 years, the Electronics activity of LACROIX has been providing its expertise to world leaders in the home & building automation market for thermal comfort, energy engineering, building safety, and even the automation of connected habitats. Our expertise in the design and production of connected objects and embedded systems allows us to respond favorably to the expectations of our customers, who are stakeholders of Smart Homes and Smart Buildings.
Customized and focused "Time-To-Market" solutions
Thanks to our design center and our factories, we can offer customized services for every project. Whether it's circuit boards or complete products and whether they are produced in small or large numbers, we support our customers by providing reliable, flexible, and competitive solutions.
Our teams are aware of the issues involved with time-to-market periods of home & building automation products and of the importance of a safe increase in productivity of these products at the best cost (time-to-volume). Since competitiveness is key, optimizing the cost of acquisition is at the core of our process. To respond to these issues, we have employed the following in our factories:
Proven project management processes
Teams dedicated to the home & building automation market and which are designed to offer personal support to our customers
Testing procedures that are adapted to quality objectives and which are often automatized
A culture of quality inspired by the automotive industry and which is based on the control of manufacturing processes and on continual improvement
Electronics: at the service of safety, comfort, and smart technology in our buildings
From home & building automation sensors to connected locks, the Electronics activity of LACROIX will support you in the development of your projects to provide more secure and better-connected buildings. Together, let's develop the Smart Homes and Smart Buildings of tomorrow!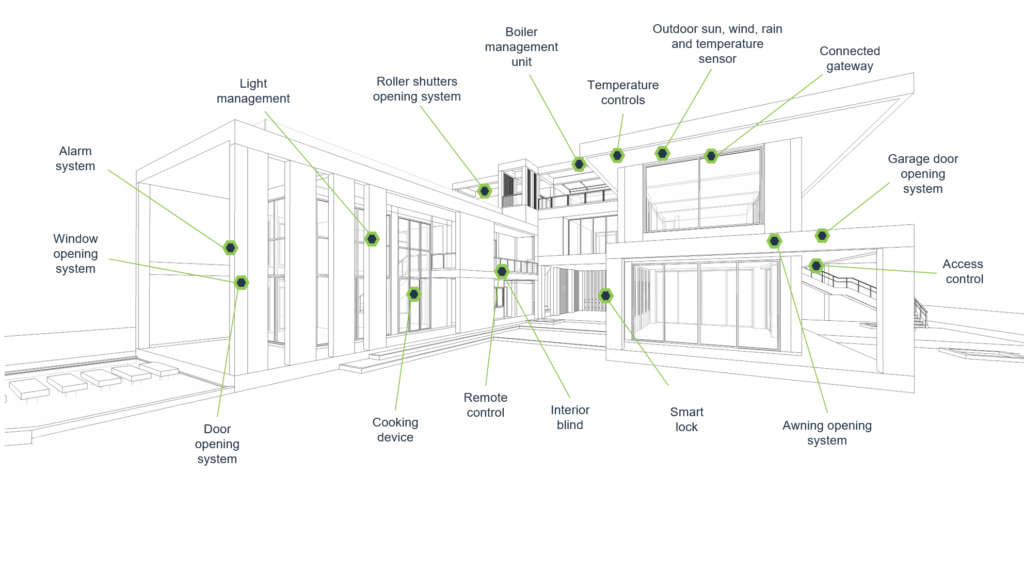 Support throughout your product's entire life cycle
Because your customers are constantly wishing for new developments and innovations, we offer you support throughout all stages of your products' life cycles. Thanks to our design center, LACROIX can guarantee that we'll understand and be able to manage the specifics of your product. We are particularly experienced in the development of features which use radiofrequency (RF) communications technologies and products that require expertise in mechatronics. We are also experts in the methodologies and tools of obsolescence management and "redesign to cost" to optimize the life of your product.
To meet all the technical challenges that you may require, we have developed a network of expert suppliers. We thus count on the best minds to offer you innovative active solutions.
Our certifications
We are also certified to UL ZPVI2 and ZPI8.