Simplicity and speed with CFX-certified machines
Making data transfer easier
The protocol, defined by IPC-CFX, acts as a web service that can be implemented on all machines. It can be used simply by means of an Ethernet cable, enabling it to be launched automatically as soon as it is connected. Once installed, it takes care of translating machine data into a language known and shared by all. File exchange or access to a database becomes obsolete, being replaced by a simple, quick operation.
Technically, the IPC-CFX standard uses an AMQP (Advanced Message Queuing Protocol) to transfer data. This is an IT standard that has already been standardised, is very well known on the web and whose security aspects and options have already been developed. The text is formatted using a common language called JSON (JavaScript Object Notation), which is also understood and used by all machines and software.
Colas Peyrelier, Industrial IT Manager at LACROIX Electronics Activity
Ensuring better quality monitoring through interoperability
The IPC-CFX standard also offers manufacturers better in-depth monitoring of their production, which can be carried out in real-time. Effectively, machines communicate with each other and visible real-time indicators make it possible to take immediate action in the production process. Teams can respond to any warning and improve their processes, thereby allowing optimization of production costs.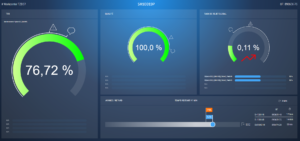 "Our interest is twofold: this protocol allows us not only to plan, launch and modify production in the workshops using production control software (MES) or management software (ERP), but also to check the status of our production in real-time." Colas Peyrelier
IPC CFX: A more robust quality approach made easier
Improving product and component traceability
All boards produced by the manufacturer are always 100% tested before delivery, and thanks to the standard, team responsiveness has been further improved. Colas Peyrelier said that relevant events to be listed during production are also implemented in the IPC-CFX standard, in particular the information necessary to ensure full traceability of our products.
Reduction of tasks with low added value
The IPC-CFX standard allows data to be extracted easily and made more accessible. Having access to useful information in real-time without needing physically to immobilize machines eliminates time-consuming procedures for obtaining authorization to take action.
EUROPLACER component placement machines are among the first to be certified CFX by IPC. Its goal is for all models to have this certification by the end of 2021, and for its screen-printing equipment to have it by the following year.
Machine compatibility with IPC CFX becomes the "standard"
It will take a total of eighteen months to develop this protocol, but it will be rolled out with other manufacturers much faster. Indeed, the objective for LACROIX is to gradually bring other suppliers on board in implementing this standard in their machine fleets. Pilot projects are already underway with Ersa and Panasonic.